With more than one billion global users, the TikTok train is full steam ahead! The incredible rise of TikTok reflects shortening attention spans and the fact that users are much more likely to engage with short, snappy content that is tailored to their interests and passions. 
However, producing content isn't straightforward, as it's not always easy to come up with creative ideas that your followers are likely to enjoy. But don't worry, we've got you covered. Here are eight TikTok tips for musicians that will help you showcase your talents and take your engagement levels to the next level. 
1. TikTok For Musicians: Covers for the win 
While you're undoubtedly an exceptionally talented musician in your own right, the reality is that TikTok users love cover versions of their favorite songs. In fact, cover songs are widely shared on all social media platforms, and TikTok is certainly no exception. The reason that covers are a great way to boost your credentials on TikTok is that they draw in new viewers as a result of a song's familiarity. 
When they discover your incredible cover of one of their favorite songs of all time, they will automatically tune into other videos on your profile and are likely to become a fan of your work. Martina Lynn is a great example of a musician rocking the covers on TikTok, so check her out for how to roll with covers. As we said, covers for the win! 
2. TikTok For Musicians: Jump on the latest trends 
Granted, some social media trends and fads are infuriating. But the reality is that you can't afford to ignore them entirely. Users love engaging with trends, whether it's lip-syncing, photo challenges, or a whole other host of creative ideas that seem to take TikTok by storm from time to time. The reason why they're so impactful is that the Instagram algorithm is fuelled by trends, which is why it makes sense to create that reflects the latest fads. 
Another great thing about trends is that you can easily keep up with them by following hashtags and keeping an eye on what other musicians are up to. You don't need to be a detective to discover the latest trends on TikTok, so be sure to jump on them as and when they appear on your feed, as it's a great way to get discovered.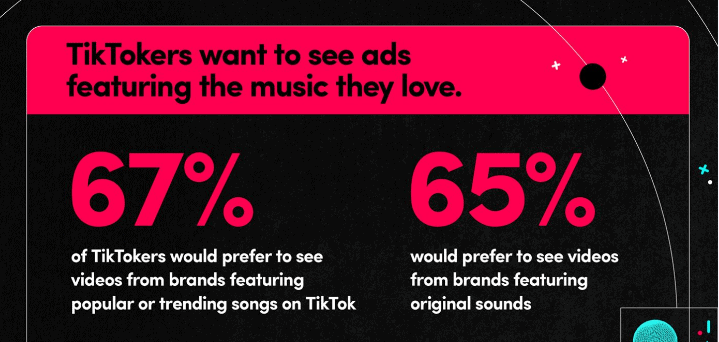 Source: Study shows TikTok really is where music starts – 75% of its users discover new artists via the platform
Various brands are also finding that using music in their ads cultivates a closer relationship with users. Link here.
3. TikTok For Musicians: Post duets  
Collaborations between musicians have always been a hit on social media, and there's a growing trend of TikTok duets right now. Duets enable you to respond to other musicians' videos, and it's a feature that is super popular on the platform. Duets are an easy win because they help you reach an untapped fanbase and they help you integrate with another creator's audience. 
Another thing to be mindful of is that duets can lead to potential collaborations further down the line. You can easily catch the attention of the original creator when you post in response to their initial video, which is a great way for up-and-coming artists to potentially collaborate with established stars. 
4. TikTok For Musicians: Record replies 
It's no secret that effective engagement is the key to success on TikTok and other social media platforms. A unique feature of TikTok is that it enables you to record a short video in response to a user's comment, which adds an element of personalization to your creations. You can use these replies to build rapport with your followers and use them to your advantage in other ways. 
They're also great for posting or taking song requests and helping people learn more about you as a person, not just a musician. So, if you see a comment on one of your posts that really takes your eye, take the time to record a video reply instead of simply liking the comment and moving on.
5. TikTok For Musicians: Share unreleased demos 
Another huge benefit of TikTok is that it allows you to experiment with releases and get feedback before you add the finishing touches to your music. A great way to do this is to share unreleased demos with your followers before asking them directly for their feedback. This is an excellent way to involve your fans in the creative process and will help them feel involved in your career and development. 
You can release snippets of a project that you're working on or perhaps the start of the song to whet the appetite of your followers. However you do it, sharing unreleased demos will boost your engagement levels and will help your fans feel involved in your productions. A win-win! 
6. TikTok For Musicians: Post a day in your life 
As a musician, it's important not to get too caught up in producing and sharing your music on TikTok. You need to realize that there are other effective types of content that your followers want to see, and day-in-the-life vlogs are an excellent option. You can reveal what a standard day looks like for you, incorporating the various aspects of your lifestyle that you think your fans will be interested in. 
Engagement rates for day-in-the-life posts typically go through the roof and are a brilliant way to increase your profile on TikTok. Be as creative as you like, and remember to portray yourself in a positive light with your fanbase. 
7. TikTok For Musicians: Offer your reactions
Reaction videos also do really well on TikTok. You can record yourself reacting to a big event, TV show, movie release, or practically anything else that has captured the attention of TikTok users in recent times. The key with reaction posts is that they need to be authentic and show how you genuinely react to a certain situation. 
If your fans think your reactions are scripted, it can damage your authenticity and credibility. You could always ask your followers to share ideas with you for things that you could react to, which is another great way to drive up engagement. Even if you've never heard of the situation you're reacting to, it's a brilliant way to show a different side to your character. 
8. TikTok For Musicians: Live stream a Q&A with your fans 
While TikTok is the king of recorded content, there's also ample opportunity for you to broadcast live streams to your followers. Of course, there are lots of different ways to share live content, but a great idea for musicians is to host a live question and answer session. You can launch it with the hashtag 'ask me anything' and invite questions on a broad range of topics and issues. 
We love live Q&As because it's an opportunity for you to really get to know your followers and allows your fans to submit their requests and feedback, as well as asking you general questions. Make sure you promote your Q&A ahead of time to ensure that your followers know when it's taking place and how they can contribute.
9. TikTok For Musicians: How to increase your presence on TikTok as a musician 
The above tips are all ideal for boosting your engagement levels on TikTok and will help you as you grow your profile as a musician. On TikTok, the key to success is using trends to your advantage and creating unique, engaging content that your fans will love. That's why creative musicians are so successful on the platform, as people love the engaging content that they produce. 
Success on TikTok also breeds success on other platforms, as you can share links to your various channels to encourage people to subscribe to your music. For instance, Spotify success is key for your musical career, and getting your music on playlists is an excellent way to be discovered by new fans. As such, when promoting your music online, it's important to take a diverse and considered approach instead of putting all of your eggs in the same basket. 
By following the helpful tips above, you can reach new fans on TikTok and hopefully broaden your musical horizons, which will ensure that your music is heard by as many different people as possible. 
Recap: TikTok tips for musicians 
TikTok is very much the place to be right now, and the platform can boost your chances of being discovered. If you have found this article helpful, we'd love you to share it with your followers on social media, and we invite you to check out our other articles that offer top tips and industry hacks for musicians. 
The bottom line is that there are lots of ways to promote your talents as a musician, and using the popularity of TikTok to your advantage is certainly one of them.
Now it's your turn to grow
If you liked this article, please consider sharing it on social media so that more people can have access to it.
If you are interested in delving into the subject, then keep reading the contents below: