Spotify Promotion! Over recent years, Spotify has evolved into one of the largest and most influential streaming platforms for audio of various types, including music and podcasts. 
With just a few clicks, you can browse, arrange, and download songs from all your favorite artists and observe their entire discography in an organized compendium.
Promoting your business or collection of work on Spotify is a surefire way to maximize audience outreach and brand awareness. This article attempts to answer many of the most common questions asked with respect to promotion on the platform.
Services such as Managergram offer you the ability to purchase likes, comments, followers, views on your acounts and posts on several social networks such as Instagram, YouTube, Facebook, Twitch and Twitter automatically. Others like Musicvertising offer targeted promotion and playlists placements on platforms like Spotify. 
Spotify Promotion: What are the benefits of utilizing playlists?
Believe it or not, Spotify pays far more than YouTube in terms of streams, so the financial reward is much higher. This extends to major labels. They make the bulk of their income using streaming technology, so they are always on the lookout for new artists that want to break into the business.
Furthermore, music supervisors now use playlists on Spotify for new licensing. Being in the proper playlist will provide you with the opportunity to legally protect and brand your work.
Spotify Promotion: Do I work with a human when promoting my playlists?
Legitimate companies specializing in Spotify playlist promotion will base their services around real relations with artists and playlist owners they help promote. Do not work with any automated services.
Still, certain services will attempt to use bots as a method of manipulation for the number of track plays as well as follower count. In order to know whether or not a company is capable of generating real organic growth for you, it's important to look at the monthly count of listeners. 
This is a key metric they cannot touch, so you can trust it. If you observe that your monthly count of listeners is increasing, you can be certain that the spins you are viewing are organic, resulting in real people listening on the other side.
Spotify Promotion: Is your promoter guaranteeing anything?
Any promoter who attempts to dole out guarantees is a red flag to avoid. Yes, you'd like to work with a Spotify playlist promotion company that boasts a great history of work but stay away from services that advertise you'll receive a certain number of plays.
True promotion depends on the curators and how well a certain track fits into their particular playlists.
Spotify Promotion: Where do promotional network playlists come from?
You'll always want to ensure that a company does not personally own the playlists or networks they are trying to promote. Always ask first to check whether their lists are based on real relations with playlist owners who do not fall under the umbrella of promotional companies.
A tactic known as payola, this practice that was once a popular staple of radio where someone is charged for their own playlists, is now illegal.
When used properly, Spotify playlist promotion is an incredibly powerful tool to break you in as an artist. However, unusual activity is increasingly common, and Spotify is monitoring this kind of unethical behavior more than ever before.
If you are investing significant time and resources towards maximizing your fanbase, the last thing you want is a platform to go and ban your account.
Spotify Promotion: How is music promoted on Spotify?
The promotion options for Spotify fall under organic and paid promotion. 
Organic promotion
Organic is completely free, and its success is predicated on you correctly leveraging the platform and its tools to help you build a real audience with playlists, follows, and likes.
If you're not yet established with a solid base of followers or simply don't want to spend money, organic reach is the best strategy for your long-term success.
Consider asking your social media fans to follow you on Spotify and inform them that their likes, saves, and follows help tremendously. This engagement sends massive signals to the algorithm that your music is important to certain people.
To become visible on streaming services, you'll need to collaborate with some kind of distribution service. This also means claiming your profile on Spotify for Artists. Add a custom touch to give yourself a more professional appearance and have a reliable place where fans can return for more content.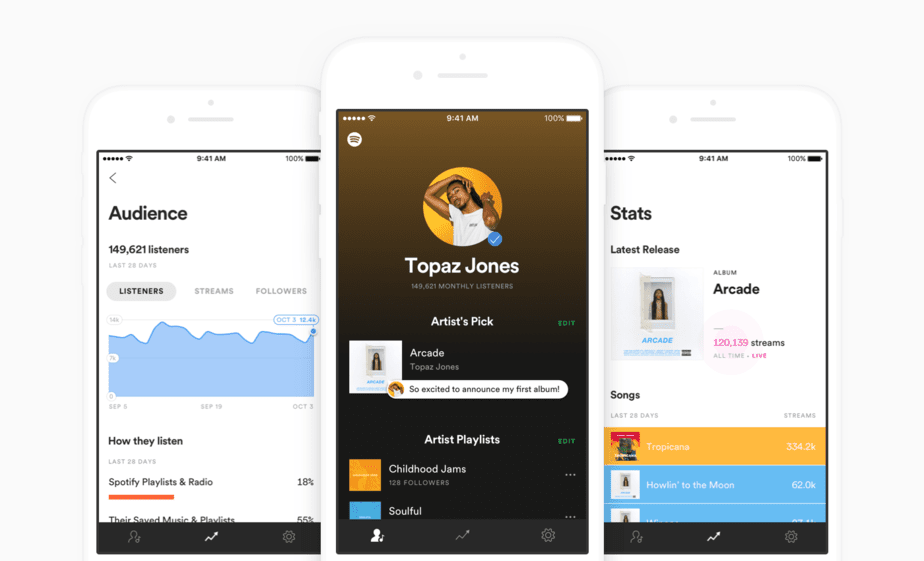 Spotify is always on the lookout for new talent and will accept submissions to their popular playlists. This is one of the best strategies possible for free organic promotion. If you have an upcoming single or general release, always consider submitting directly to Spotify through your Artists profile. 
Finally, pre-save campaigns encourage followers to save your track before it is even released so they have instant notification the day it comes out and can automatically include it in their library. This builds a wave of interest on the day of your new work's debut and is critical for allowing the algorithm to know that your songs are receiving attention. It makes it worthy in their eyes to put it on a popular playlist.
Paid promotion
Conversely, paid promotion involves using money to attract listeners to your work. There are two main options for paid advertising. The first includes a marquee banner that exists on the home page of all users and the video and audio ads playing between streams for free users.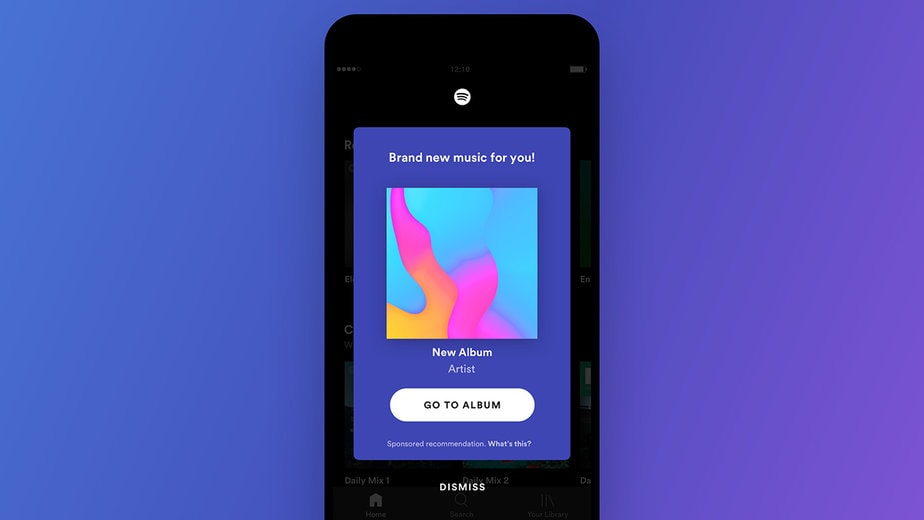 The marquee is the most expensive, albeit most valuable, paid promotion tool available on the platform. If you purchase placement on the Marquee, your music gets featured on a prominent ad that is directly on the home page of paid and free Spotify users. Anytime the users click or see your ad, they will be taken directly to the music you are attempting to promote.
However, the marquee banner option is exclusively available to artists that already have over 2,500 followers or beyond 15,000 streams over the course of a month.
To use such a feature, you'll already need to have an existing following and belong to a team based in the United States.
In Conclusion
The above topics will help you understand how to better promote your song, increase your streams and maximize your royalty payments, which is something that all musicians can get on board with. 
Be sure to check out our range of Spotify promotion services today to receive the help you need to showcase your talents to the waiting world of streamers.
Learn more about Real & Targeted Spotify Promotion now!