Utilizing your profile on Spotify for Artists can make or break your success on the popular streaming platform; it's as simple as that. 
That's why we've put together this guide on why Spotify for Artists is so important while providing you with some of our top tips on how to get the very best out of your profile.
By the end, you will be equipped with a tried-and-trusted Spotify strategy that will land you more streams and get your music in front of a new audience. 
Why is Spotify good for musicians? 
If you want to get your music out into the world, then Spotify is the best platform out there right now. Approximately 406 million people use Spotify every month, and artists can expect to make anywhere between $3 – $5 per 1,000 streams, depending on the terms of their account. 
Spotify pays out billions of dollars every year in royalties generated from paid subscribers and ads that are broadcast on their free-to-use service. While there are other streaming platforms out there, Spotify is very much the main player and is where all up-and-coming musicians need to be.
What Is Spotify for Artists?
Spotify for Artists is a free add-on that musicians can access after publishing music on the platform. Essentially, it's a tool that will help you improve your outreach and attract more streams. 
One of the key features of Spotify for Artists is that you can personalize your profile and showcase your authenticity as a musician. This helps you to gain credence in the industry and attract more followers to your tracks. 
It also provides you with an opportunity to engage with your current fanbase and reach out to new listeners who might be interested in your music. Whether you're an independent artist or represented by a production team, you should make the most of Spotify for Artists to give yourself the best chance of success on the platform. 
Why is your artist page so important? 
Spotify is the undisputed champion of the streaming world and is the trusted platform of hundreds of millions of listeners from different parts of the world. When you're trying to broadcast your music to a new audience, the chances are they will turn to Spotify to check you out. 
Whether they've seen you on YouTube or watched you perform at a live gig, new listeners will seek out your artist page on Spotify to check out your credentials. They will also use your profile to check out your other tracks. 
If you haven't optimized your profile on Spotify for Artists, you won't be able to grow your follower base. It would be like someone finding you on Instagram only to see that you don't have a profile picture and have only posted once. Why would they bother following you? They wouldn't! 
What's more, Spotify playlists are the primary way that most people discover new songs. The Spotify algorithm works out what its users want to hear before directing them to the relevant playlists where they can find tracks that they might like. 
If you haven't taken the time to develop your Spotify for Artists profile, your likelihood of being placed on a playlist is significantly reduced. 
Overall, your profile on Spotify is the perfect way to introduce yourself to your current fanbase, as well as new listeners who find you on the platform. It also shows the Spotify algorithm that you're a musician to be taken seriously, increasing your chances of being placed on a playlist.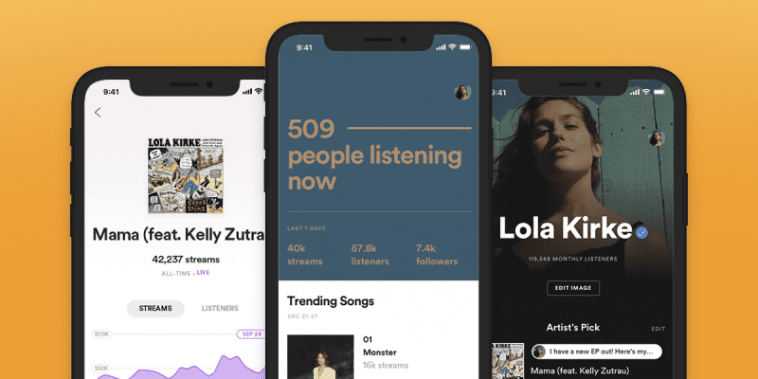 Tips on how to use Spotify for Artists to grow your streams 
When you're launching your career as a musician, there are so many things you need to think about. You need to choose your platforms, consider your representation, and build a profile on social media. 
In other words, it can be overwhelming. However, it's so important that you don't neglect your Spotify for Artists profile, as you need to optimize it if you're to see success on the platform and develop a following as a result. 
Below, we introduce you to some of our top tips on how to use Spotify for Artists to grow your streams, which will help you maximize your audience and increase your royalty payments as a musician. 
Tip 1: Optimise your profile 
Let's start with the most obvious tip – you need to optimize your profile. Once you have claimed your profile on the platform, you have a blank canvass from which to work. We'd suggest uploading professional pictures of you as a musician, as well as relevant information about your work.
Consistency is key when developing your brand as a musician, so your Spotify for Artists profile should reflect your accounts on TikTok, Instagram, and YouTube. Be sure to use similar images, colors, and fonts, as this helps to cement your brand into people's minds.
Some of the things you can customize on your profile include: 
Avatar/header:

This is your chance to shine. While you don't need to go crazy, professionalize your appearance on Spotify so that those who visit your page will take you seriously. Using a blurry photo from a drunken night out won't do the business! 

Bio:

Spotify gives you 1,500 characters to tell your story. It's easy to try and get too clever with your bio, but you should use the available characters to share your story. Again, keep things simple and explain who you are to your new followers. 

Gallery:

In addition to your artist bio and avatar is your Spotify gallery. You can use it like your Instagram story, sharing images from gigs, and recording sessions. This is another chance for you to showcase your credentials and build trust with your followers. 

Social media links:

One of the most important aspects of your

Spotify for Artists

profile is the ability to link out to your social media sites. Give your listeners the chance to follow you on other platforms and invite them to join your other fans in the process. 
You need to look at your Spotify for Artists profile as a chance to showcase your talents as a musician. If you leave it blank, you're wasting an incredible opportunity to build rapport with your followers, which will help you drive streams and income if you do it properly.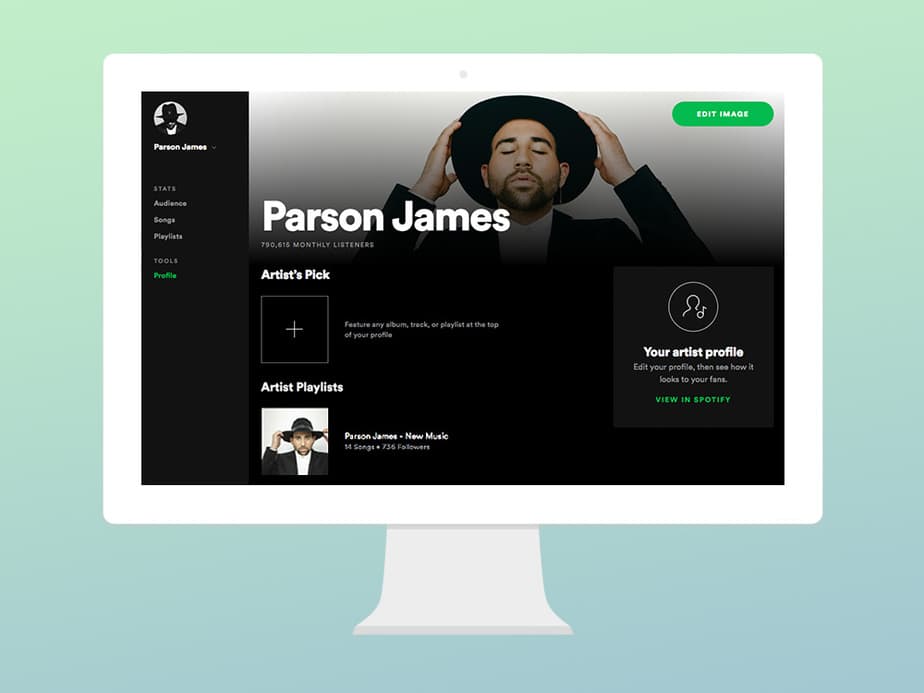 Tip 2: Utilise the statistics 
The Holy Grail of any Spotify for Artists account is the statistics that you can access through your profile. In the digital age, you can access a vast array of statistics that show you how popular you are as a musician and how you can grow your audience. 
As a registered artist, you can access an invaluable pool of real-time statistics that you can put to your advantage. The two most important categories to you are music and audience, as we explain in detail below. 
Music 
When you click on your music tab, you will be introduced to four sub-categories: songs, releases, playlists, and upcoming. Under songs and releases, you can see statistics relating to streams, listeners, and views. 
Under the playlist tabs, you can see how many streams and listens you've received from the Spotify playlists that your music has been featured in. This is a crucial metric because it shows you how successfully the Spotify algorithm has put your music out there. 
Our Spotify Playlist Placement service is perfect for up-and-coming musicians hoping to get more streams on the platform, so be sure to check it out if you're looking to expand your follower base. 
Audience 
The statistics on display under the audience tab are much more detailed and allow you to track things like unique listeners and how they found you. You can even learn about the demographics of your listeners, including their gender, age, and location. 
Why is this important? Because it helps you plan your marketing and promotion strategy as a musician. Reflecting on your real-time statistics and building a strategy that will appeal to the right people is so crucial. 
When you know who is listening to your music, you can improve your Spotify for Artists account and use the data available to you to grow your audience, which will see an increase in streams as a result.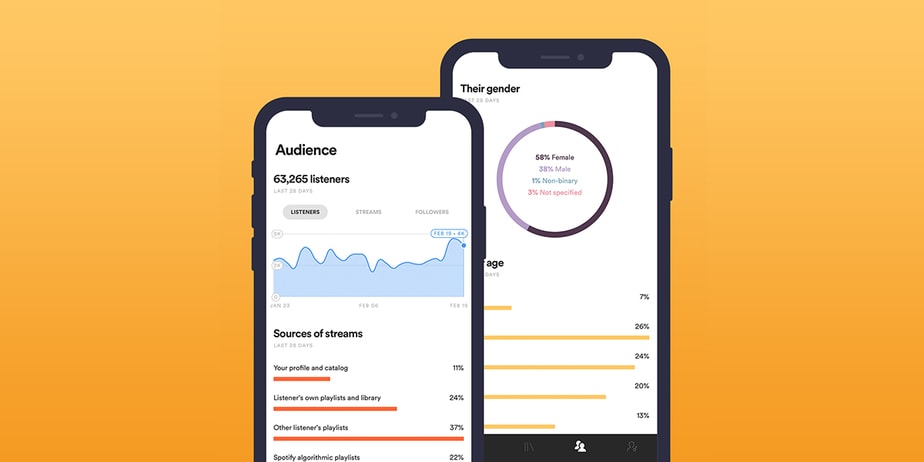 Tip 3: Maximise your playlist exposure 
Research shows that playlists account for at least 31% of music listening time, but this number is undoubtedly on the increase. In fact, most Spotify users tap into their suggested playlists to find new music on a weekly basis, highlighting the importance of playlist exposure to musicians. 
Spotify for Artists enables you to see how you're performing in terms of your exposure to playlists. You can see what types of playlists your music is featuring in and how it is helping your streaming numbers as a result. 
The simple act of claiming and optimizing your profile will tell the Spotify algorithm that you're a good candidate for playlist placement. What's more, keeping it regularly updated and linking out to your other socials will do a lot for your playlist exposure. 
Leaving your profile dormant won't help your case, so make sure it's updated with your latest releases and even snaps of your recent endeavors into the music industry. After all, the more you appear on playlists, the more streams your music will receive.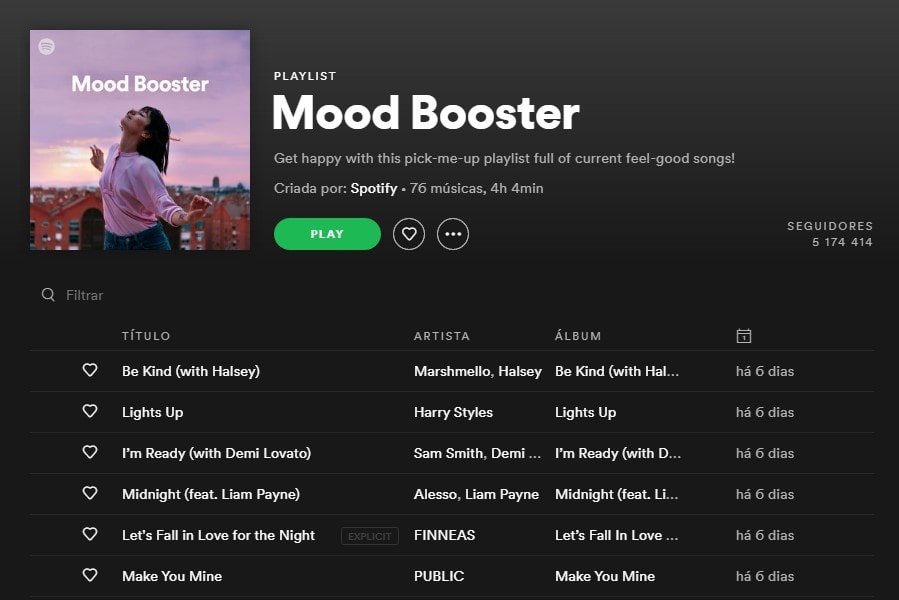 Tip 4: Use canvas to your advantage 
One of the coolest features of Spotify for Artists is canvas. It allows you to add a mixture of 2D and 3D graphics to your profile, which will replace the album artwork when someone streams your music with an internet connection. 
You're in full control of the canvases that accompany your tracks, and you can change them whenever you like. The beauty of these canvases is that it makes your music even more unique and showcase your individuality as a musician. 
It also makes your music more engaging, prompting more people to click through to your profile when they are introduced to your music for the first time. Overall, a beautifully designed Spotify canvas is another great way to drive streams through your Spotify for Artists profile. 
Get your music on more playlists today 
Optimizing and utilizing your Spotify for Artists profile is an important first step. Once you're all set, it's time to get your music out there by appearing on playlists. 
As we've mentioned throughout, featuring on playlists is so important if you're hoping to grow your profile on Spotify, as it's one of the primary ways that people find new music. 
At Musicvertising, we've helped countless musicians reach exciting new heights through our Spotify Playlist Placement service. 
You can choose your playlist, and we will ensure your music is found by the right people. We guarantee placement for a minimum of thirty days, and your chosen tracks will start receiving streams right out of the gate. 
While driving traffic to your Spotify profile organically is commendable, it won't get you the results you need. In addition to our placement service, we also run Spotify Campaigns that can promote you in front of an audience of up to 100,000 potential listeners each month. 
So, if you're hoping to succeed as a musician on Spotify, make sure you have the right tools and strategy in place to make the most of the platform. 
Final thoughts 
Thanks to Spotify for Artists, you have a wonderful opportunity to get your music out into the world and heard by new audiences. The above tips will help you increase your streams and maximize your royalty payments, which is something that all musicians can get on board with. 
Be sure to check out our range of Spotify promotion services today to receive the help you need to showcase your talents to the waiting world of streamers.